TCK International Academy (TCKIA) is an educational opportunity with a biblical worldview for families in transition. Our mission is to prepare Third Culture Kids (TCKs) academically, spiritually, and emotionally for postsecondary academics and careers. The school was created to meet the specialized academic needs of mobile families. TCKIA gives families an educational center that simultaneously connects them with TCKs and certified faculty. We understand that educational choices for children can be difficult to navigate when living cross-culturally. TCKIA is not a homeschool program, but an official distance-education school serving TCKs.
Distance education is the education of students not physically present in a traditional classroom. It is independent learning which may require some instruction, assistance, or general oversight from parents. Distance education is not homeschooling because there is a Mentor Teacher as facilitator. TCKIA's distance education model includes individual, self-paced learning with options for online or paper book learning.
The TCKIA 3rd through 12th grade online Ignitia distance education model includes online reading and videos to learn new content then completion of assignments, projects, quizzes, and tests to demonstrate mastery of the subject. It may also include some assignments and projects off-line which the student will upload to the system or provide electronically to the Mentor Teacher for grading. TCKIA Mentor Teachers function as facilitators and provide technical support and curriculum assistance for both students and parents. Mentor Teachers do not provide "on demand" live teaching.
TCKIA K-2nd grade is a paper book curriculum. There is also a paper book option for 3rd-6th grade. Although the paper book curriculum requires an adult to give instruction, it is still not traditional homeschooling. Mentor Teachers are also available to provide facilitation of gradebook accuracy, assessment evaluation for content mastery, and support to families.
HOW WE STARTED
TCK International Academy was founded by the TCK International educational support team, who had a vision to provide the finest distance education that would help students transition as they live abroad. TCKIA started in fall 2017 with 42 students in grades 3–12 from 6 regions and 16 countries. TCKIA continues to grow every year and now offers curriculum for students in Kindergarten through 12th grade. TCKIA is a nonprofit organization, governed by a Board of Regents.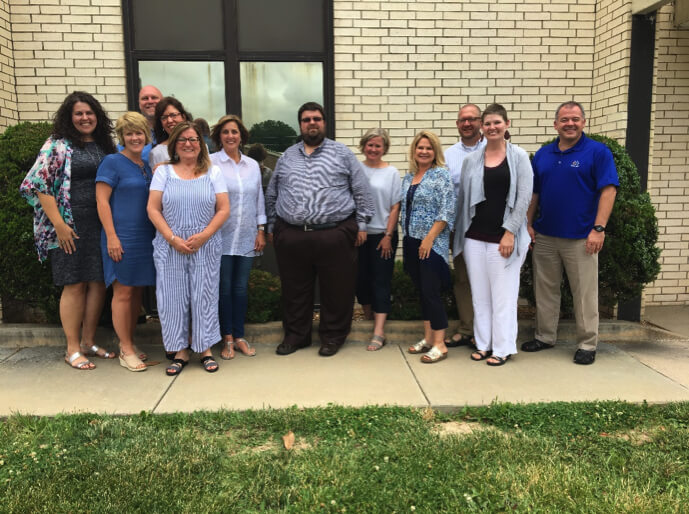 Ms. B. Skipper
Executive Dean of TCK Education for TCKI and TCK International Academy (TCKIA)
Mr. C. and Mrs. D. Phillips
Directors of Third Culture Kid International (TCKI)
Ms. B. Moore
TCKI Education Consultant for Eurasia
DR. B. Dickey
TCKI Education Consultant
Mrs. L. Schmidt
Previous TCKI Education Consultant for Latin America/Caribbean
Mrs. a. charest*
TCKI Education Consultant for Africa and Anchor Board Member
Dr. T. Stafford
TCKIA Senior Instructional Designer, Curriculum, Admissions, Accreditation and Records Support
Mrs. K. Buckley
TCKI Education Consultant for Europe and SHARE Board Member
Mrs. J. Brown
TCKIA K-6th grade Curriculum Developer
DR. J. and Mrs. R. Tucker
TCKIA Board Member and Early Reading Support
Mr. P. Dobson
TCKI Education Consultant for Asia Pacific and AERC Board Member
Mrs. V. Stafford*
TCKIA Registrar, Enrollment Specialist and Records Custodian
Vision Statement
To form a partnership with expat families by providing a distance education option for their children grades K-12.

To train a generation of godly leaders who are committed to lifelong learning and helping others.

To train each student in rigorous academics so that they can pursue higher education in accordance with their calling.

To enhance their education through the use of their global perspectives as they serve with their families.

To provide a biblical worldview that is seen throughout all their educational subjects and studies.

To help students of expats transition well back to the U.S. for college and career pathways.
Statement of Faith
We believe the Bible to be the inspired, infallible and authoritative Word of God.

We believe there is one God, eternally existent in the three persons: Father, Son, and Holy Spirit.

We believe in the deity of our Lord Jesus Christ, in His virgin birth, in His sinless life, in His miracles, in His victorious and atoning death through His shed blood, in His bodily resurrection, in His ascension to the right hand of the Father, and in His personal return in power and glory.

We believe that for the salvation of lost and sinful man, regeneration by the Holy Spirit is absolutely essential.

We believe in the present ministry of the Holy Spirit, by whose indwelling, the Christian is enabled to live a godly life.

We believe in the resurrection of both the saved and lost; they that are saved unto the resurrection of life and they that are lost unto the resurrection of damnation.

We believe in the spiritual unity of believers in our Lord Jesus Christ.
What We Provide
Fully accredited distance education for kids in transition, grades K–12
Registered with the State of Missouri as an educational institution
Ignitia curriculum

—

Alpha Omega Publications, available on Windows and Mac (for 3rd through 12th grades)
Paper book curriculum* for students in Kindergarten through 2nd grade with teacher support
*3rd-6th grade paper book option available fall 2021 with Administration approval
No special software needed; internet connection (cable or DSL) the only requirement
Academic records, transcripts, and high school diplomas included
Review of existing academic records for transfer
Teacher support

Facilitating student learning
Grading at checkpoints and tracking student progress
Experience with TCKs

Tuition: $3,500 per year (curriculum and teacher support)
Current subjects: Bible, History/Geography, Language Arts, Math, Science, and some electives
Expansion Plan
In the next three years, we plan to add:
Paper book curriculum option for grades 7 through 12

More electives
Online connections with other TCK students in the same grade
We are thankful for the TCKIA team working so hard and for your patience and flexibility!